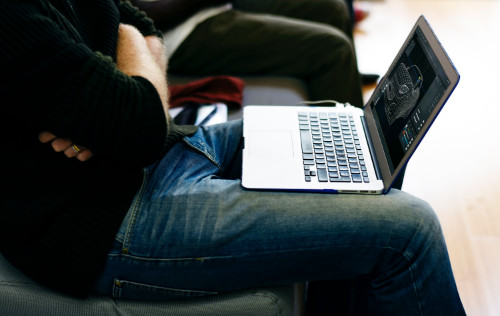 A global management consultant, an industrial engineer, a housewife, a few millennials and a couple of close friends asked…
Why do I have to balance my laptop on my lap when waiting to board a flight?
Why do I have to eat off the floor in the boarding area when I'm waiting for my flight?
Why do I have to get those nasty stares when I take the only remaining table top in the boarding area?
First, capture the idea. Why not transform the travelers' experience using what they already were carrying with them—their standard roller luggage! Nearly 40 renderings, sketches and scratchings confirmed the concept.  The journey had begun!
Next was bringing the notion to life…yes, in our basement using a hack saw, super glue and household materials to develop the proof of concept. It worked! goDesk® could be strong, stable, hyper-light, and ultra functional…all while being fitted with standard off-the-shelf luggage. Ok, we've got something here!
The first breakthroughs came when we teamed with a major university. We leveraged the priceless brainpower of more than 15 engineering students and graduate assistants. We were armed with out-of-the-box thinking that fueled advanced design options. Core elements, function and performance were all tested.
Component Design & Engineering
What came next were design iterations using an additive manufacturing approach. We used computer-aided design software and 3D printing to create rapid prototypes. This helped us simplify the design, improve the efficiency of manufacturing, and create optimum functionality.
Production Feasibility & Stress Testing
Now that we proved that goDesk® could be engineered we needed to demonstrate we could make it! Would goDesk® deliver the strength and stability needed? Would it hold up to usage patterns and withstand load and durability expectations? …a resounding YES across the board!
Access goDesk® Secured Content for All the Details
Contact us today to receive your personal codeword to access extensive proprietary design and engineering documentation. Learn more about goDesk® and how you can be capturing new market share within weeks with goDesk®.
Contact Us